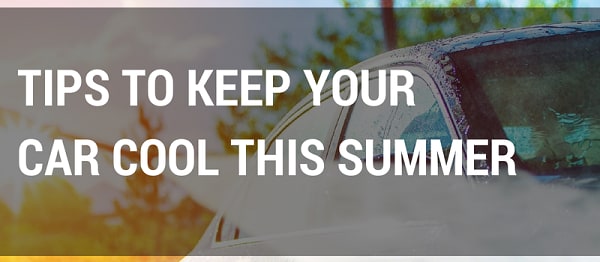 Summer has been brutal so far, with temperatures hitting the high 90s and 100s in many regions. Although many car owners consider how to maintain their vehicle during the winter months, they don't always consider the ways to keep their vehicle cool in the summer.
As I recently purchased a vehicle, I felt it important to do some research on how to keep my car cool during the harsh summer months. Here are some valuable tips that I've found through my research.
Wash your car regularly.
Just as we need a shower to keep us cool on those excessively hot days, our car needs a wash too. Washing your car and using wax that reflects the sun's rays will help to keep your car cool during the summer. And it will help to protect your vehicle and allow the paint to last longer without fading.
Invest in a sunshade.
I've noticed in recent years that many car owners have moved away from using sunshades; however, it is a simple and affordable way to keep your car cool during the summer. Sunshades are typically metallic in material and stretches across your windshield. There are also some fashionable styles available, if you don't want the typical metallic style.
Leave a blanket on the seat of your car.
Another simple and affordable way to keep your car cool during the summer is to leave a blanket on your seats while your car is parked. This is a great tip for car owners with leather seats, as leather absorbs all of the heat that comes into your vehicle. It's a great idea to cover the seats to protect them from fading over time and to allow your car to stay cool while parked out in the sun.
Place a hand towel on your steering wheel.
Have you ever returned to your vehicle after a long parking stint, and the steering wheel has been excessively hot to the touch? Possibly all car owners have experienced it at some point. Place a hand towel on your steering wheel when you park, and you'll return to a cool steering wheel.
Make sure that your tires are inflated properly.
You should make sure that your tires are inflated properly at all times. This is especially true during the summer time, when tires come in contact with hot pavement. The contact causes friction and if your tires are underinflated, it is more likely that your tires will wear sooner than necessary.
Leave your windows slightly cracked.
It's a good idea to leave your windows slightly cracked in order to release the heat from your car while parked; however, it's an even better idea to invest in some window visors. This will allow your car to stay relatively safe and avoid your car interior from getting wet should it start to rain.
Park away from the sun or in a shady area.
Simple, yes, but effective. Park in the direction opposite to the sun and avoid the harshest sun rays from entering your vehicle. Or avoid the sun completely by parking in a shady area. If at all possible, park in a garage - they tend to stay cooler during the summer. By limiting the amount of direct sunlight that comes into your car, you'll avoid the increased heat in your vehicle.
Tint your windows.
Tinting your windows is a bit more expensive than previous tips mentioned above; however, it will help to keep your car cool during the summer. It keeps the interior of the car relatively cool even in the hottest temperatures. Window tint absorbs or reflects UV light, allowing some light in but not all. Before you consider tinting your windows though, make sure to determine the tint laws in your state. Some states have specific laws regarding having tint on any of your car windows
Choose cloth interiors.
Cloth interiors definitely help to keep your car cooler - leather absorbs the heat, whereas cloth stays a lot cooler. If possible, buy a car with lighter-colored seats. Dark surfaces absorb more heat than light surfaces, so a darker seat will be hotter than a light seat.
Check your fluids regularly.
It is important to check your fluids regularly during the summer months. Engine fluids help to keep heat away from critical engine components. When fluids are low, there is more of a likelihood for overheating. Before travelling on long trips or periodically during the summer, check all of your fluids and make sure to top off any that seem somewhat low.
Install a remote start system.
This is also a pricier option, but definitely would be worthwhile. Get a remote start professionally installed. Make sure to keep your AC levels at high when you leave your vehicle, and start your car at least 5 minutes prior to entering. Those 5 minutes will create a big impact on getting your car to a cooler level when you enter it.
Author Note: Natasha Peter is the owner of the popular family and lifestyle blog Epic Mommy Adventures. For more on travel tips, family adventure and activities be sure to read about it all on her blog.